The new GPSMAP 1042xsv and 1242xsv  are a great solution for those boaters who prefer a full button or keyed unit, but don't want to lose out on the technology that the touch screen displays have to offer. Available in a 10" and 12" screen size these units are packed with everything you need to make it to you destination. It doesn't matter if your just going for a cruise or after that trophy fish this unit can get you there.  **Note, the 1242XSV is also offered in a Touch Screen version.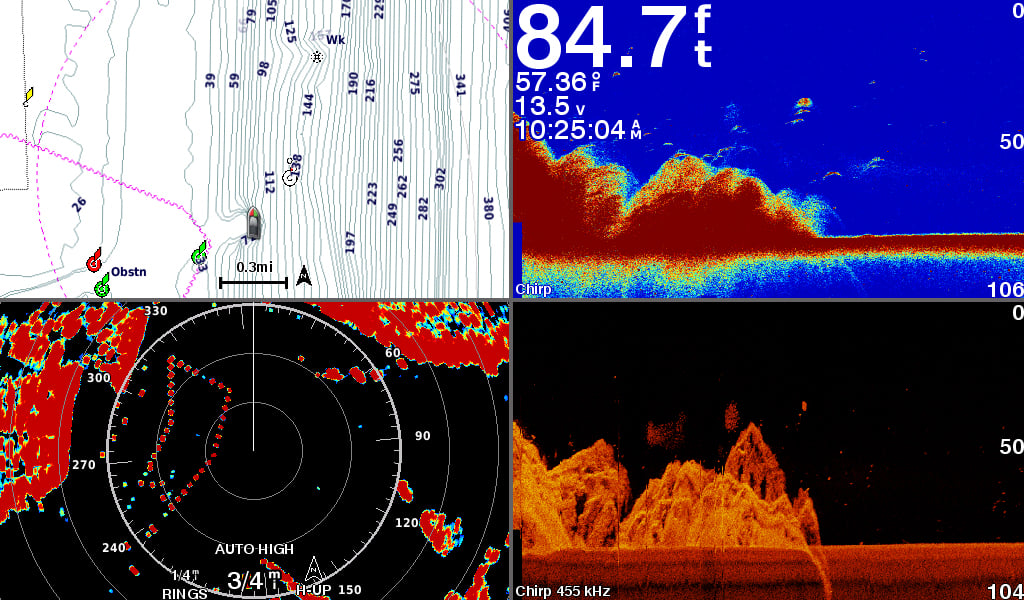 Sonar:
The 1kw CHIRP sonar is a great tool for fishermen near and offshore. In addition to this 1kw built in sounder this unit also comes ready for your ClearVu and SideVu transducer. If you thought that was all then you'll be pleased to know that we can also pug in our Panoptix transducer and any of Garmin's premium sounder modules for an even wider selection of transducers. Although this unit does not include a transducer in the box it is plug and play ready for that Garmin transducer that fits your application specifically.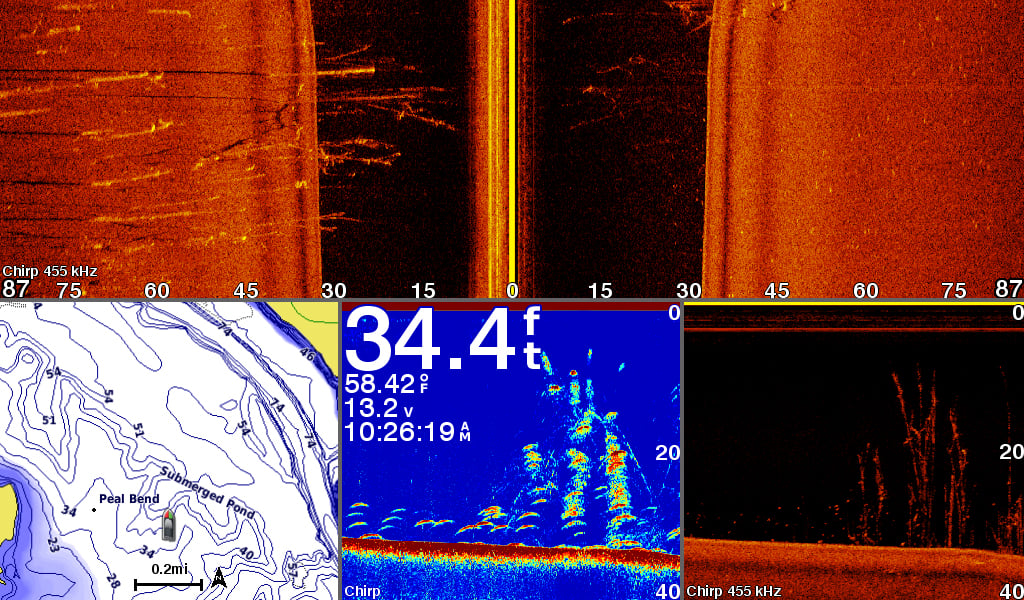 Charting:
These units will come with built in lake and bluewater charts. Its preloaded with LakeVu and Bluechart G2 charting for coverage almost anywhere in or around the US. This will include 17000+ lakes, rivers, and reservoirs along with tidal stations and plenty of coverage offshore. If your seeking the highest level of chart detail for your area then of course there is always the option to upgrade to the Lakevu Ultra HD or G2 Vision card to get the best possible coverage. If you run your vessel in an area where coverage may not be as detailed or if your looking to see the little bump and dips in contour then we also have the ability to use Garmin's QuickDraw software to make our own charts with up to 1 foot contours. Once we have all the Quickdraw data we need we have the option to share this data with out friends and the rest of the fishing community.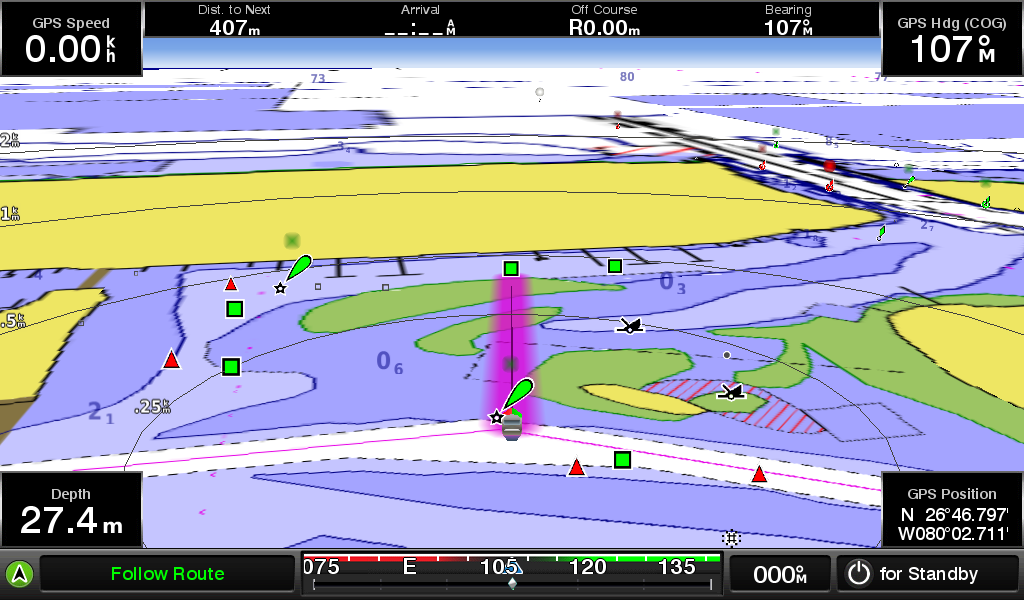 Networking:
With the built in NMEA2000 and NMEA0183 connectivity we can share NMEA data to other units and connect to some of the best sensors and accessories available. There is also built in Ethernet connectivity as well. This Ethernet allows us to us some great devices such as radar, sounder modules, IP cameras, and Panoptix transducers. With these awesome devices we can also use the Ethernet to share our devices to other Garmin compatible units. This includes sharing Satellite weather and radio along with sonar, VHF, and pretty much any other Garmin device you can connect to these units.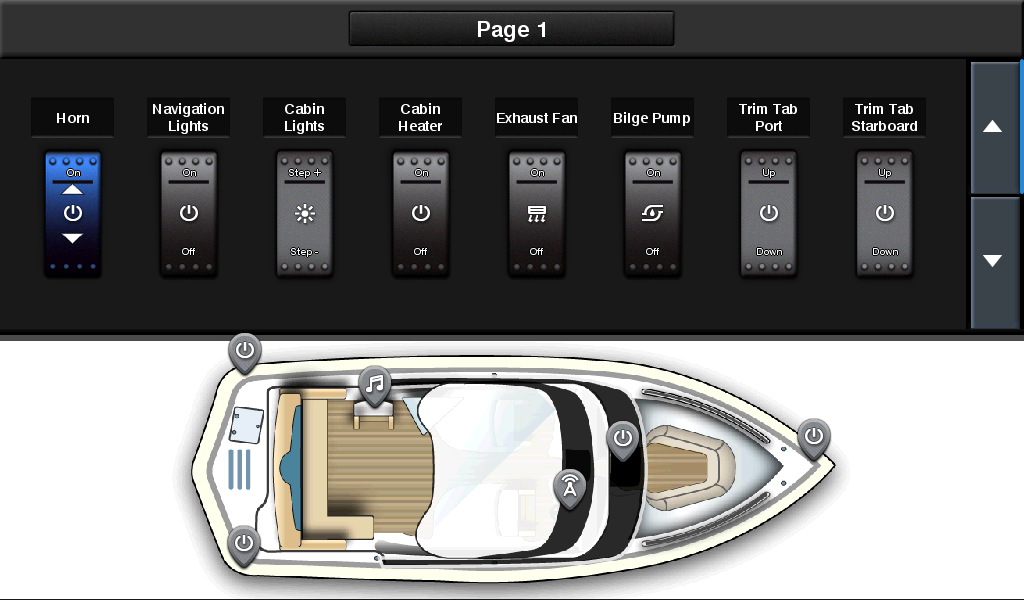 WiFi and ANT:
With Gamins built in WiFi the option to connect your personal devices such as tablets, Ipads, and Iphones is now available. These devices have the ability to run BlueChart Mobile and the Garmin Helm App allowing us to upload charting data and routes as well as controlling the MFD through and device with the Garmin Helm App installed. ANT connectivity allows us to connect to Quatix watches Gwind Wireless wind sensors, and wireless remotes.
Antenna:
These units will come with a built in 10Hz GPS antenna that will refreshes 10 times a second and allows up to 5000 waypoints to be stored and navigated to at any given time. This refresh rate lets us pin point locations and drop a waypoint on them with precise accuracy.
Images of Rear to Show Ports
1242XSV (1242 is the same except no Orange Sonar port)
1042XSV (Note: 1042 is the same except no Orange Sonar port)
Specifications- 1242xsv:
Performance and Physical
Dimensions
14.1" x 8.9" x 2.7" (35.8 x 22.6 x 6.9 cm)
Display size
10.3" x 6.4" (26.2 x 16.3 cm)
Display resolution
1280 x 800
Display type
WXGA display
Weight
5.2 lbs
Water rating
IPX7
Antenna
Internal or external over NMEA 2000
NMEA 2000® compatible
Yes
NMEA 0183 compatible
Yes
SiriusXM™ Weather & Radio compatible
Yes
Power consumption
Max power usage at 10 Vdc: 34.8 W
Typical current draw at 12 Vdc: 2.2 A
Max current draw at 12 Vdc: 2.9 A
Mounting options
Bail or flush
Maps and Memory
Preloaded maps
BlueChart® g2 (coastal maps) and LakeVü HD (inland maps)
Accepts data card
2 SD™ cards
Waypoints
5,000
Routes
100
Track log
50,000 points; 50 saved tracks
Chartplotter Features
Garmin Radar compatible
Yes
Garmin Sonar compatible
Yes (with external black box, sold separately)
Wireless remote compatible
Yes
Supports AIS (tracks target ships position)
Yes
Supports DSC (displays position data from DSC-capable VHF radio)
Yes
Tide tables
Yes
Garmin Meteor Audio System compatible
Yes
Supports Fusion Lync compatible marine radios
Yes
GSD™ Black Box sonar support
Yes
GCV™ Black Box sonar support
Yes
BlueChart® Mobile (planning) compatible
Yes
Garmin Helm compatible
Yes
GRID™ (Garmin Remote Input Device) compatible
Yes
Connections
Transducer
1 - 12 pin
NMEA 0183 input ports
1
NMEA 0183 output ports
1
Video input ports
1 BNC
Video output ports
None
Wireless connectivity
Yes
Garmin Marine Network™ ports
2
Sonar Features and Specifications
CHIRP sonar technology
Yes (Built-in)
ClearVü
Yes with CHIRP (built-in)
SideVü
Yes with CHIRP (built-in)
Dual-frequency (50/200 kHz) sonar capable
Yes
Dual-beam (77/200 kHz) sonar capable
Yes
Frequencies supported
Traditional: 50/77/83/200 kHz
CHIRP (low, medium, high)
ClearVü/SideVü (260/455/800 kHz)
(dependent on transducer)
Transmit power
1 kW traditional; 1 kW CHIRP
Maximum depth
5,000 ft at 1kW (depth capacity is dependent on water bottom type and other water conditions)
Bottom lock (shows return from the bottom up)
Yes
Water temperature log and graph
Yes
Sonar recording
Yes
Sonar history rewind
Yes
Specifications- 1042xsv:
Performance and Physical
Dimensions
12.5" x 7.3" x 2.7" (318 x 185 x 69 cm)
Display size
8.8" x 4.9" (224 x 125 cm)
Display resolution
1024 x 600
Display type
WSVGA display
Weight
4.1lbs
Water rating
IPX7
Antenna
Internal or external over NMEA 2000
NMEA 2000® compatible
Yes
NMEA 0183 compatible
Yes
SiriusXM™ Weather & Radio compatible
Yes
Power consumption
Max power usage at 10 Vdc: 32.4 W
Typical current draw at 12 Vdc: 1.9 A
Max current draw at 12 Vdc: 2.7 A
Mounting options
Bail or flush
Maps and Memory
Preloaded maps
BlueChart® g2 (coastal maps) and LakeVü HD (inland maps)
Accepts data card
2 SD™ cards
Waypoints
5,000
Routes
100
Track log
50,000 points; 50 saved tracks
Chartplotter Features
Garmin Radar compatible
Yes
Garmin Sonar compatible
Yes (with external black box, sold separately)
Garmin SmartMode compatible (customizable monitor presets)
Yes
Supports AIS (tracks target ships position)
Yes
Supports DSC (displays position data from DSC-capable VHF radio)
Yes
Tide tables
Yes
Garmin Meteor Audio System compatible
Yes
Supports Fusion Lync compatible marine radios
Yes
GSD™ Black Box sonar support
Yes
GCV™ Black Box sonar support
Yes
BlueChart® Mobile (planning) compatible
Yes
Garmin Helm compatible
Yes
GRID™ (Garmin Remote Input Device) compatible
Yes
Wireless remote compatible
Yes
Connections
NMEA 0183 input ports
1
NMEA 0183 output ports
1
Video input ports
1 BNC
Video output ports
None
Wireless connectivity
Yes
Garmin Marine Network™ ports
2
Sonar Features and Specifications
CHIRP sonar technology
Yes (Built-in)
ClearVü
Yes with CHIRP (built-in)
SideVü
Yes with CHIRP (built-in)
Dual-frequency (50/200 kHz) sonar capable
Yes
Dual-beam (77/200 kHz) sonar capable
Yes
Frequencies supported
Traditional: 50/77/83/200 kHz
CHIRP (low, medium, high)
ClearVü/SideVü (260/455/800 kHz)
(dependent on transducer)
Transmit power
1 kW traditional; 1 kW CHIRP
Maximum depth
5,000 ft at 1kW (depth capacity is dependent on water bottom type and other water conditions)
Bottom lock (shows return from the bottom up)
Yes
Water temperature log and graph
Yes
Sonar recording
Yes
Sonar history rewind
Yes
Transducer port
12-pin
What's in the Box:
GPSMAP Unit
Power/data cable
NMEA 2000 T-connector
NMEA 2000 drop cable (2 m)
Bail mount kit with knobs
Flush mount kit with gasket
Protective cover
Trim piece snap covers
Documentation
8-pin transducer to 12-pin sounder adapter cable