---
---
We are proud to be an authorized dealer for this product.
What does this mean to you as a customer?
Buying from an authorized dealer means you are getting the best products and equipment from a reliable and knowledgeable source. We are always ready to answer any questions you may have regarding the product and installation. This product is covered under the manufacturers original warranty.
In an industry where websites and companies come and go, BOE Marine has been serving boat owners for over 20 years. We will be here after you have made your purchase, while many others will be a memory. When you buy from us, you do so with peace of mind.
Want it Tuesday, Jan. 31?
Choose
Two-Day Shipping
at checkout.
Details
Product Details
The Smart G2 Powerstage bundle is a one-box solution for vehicles requiring top performance. Designed with the simplicity of Smart G2 Technology, this bundle includes (2) 5000mAh 3S 50C Smart G2 LiPo Batteries, and (1) S2200 Smart G2 Dual Port AC Charger.
In The Box
(2) Spektrum 5000mAh 3S 11.1V 50C Smart G2 LiPo Battery Hardcase, IC5
(1) Spektrum S2200 Dual Port AC Smart G2 Charger, 2x200W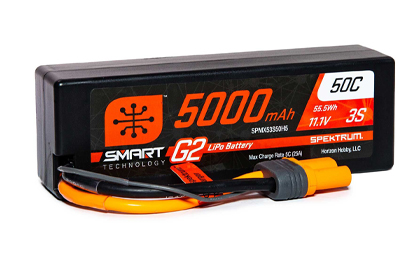 SPEKTRUM SMART G2 BATTERY
Drivers enjoy even more Smart advantages when using Spektrum™ Smart G2 50C LiPo batteries to power their vehicles. "Generation 2" features make these LiPo packs — featuring a 50C continuous discharge rating for high performance and longevity — even simpler and safer to use together with your Smart charger.
For example, Spektrum™ Smart G2 technology makes it much easier to balance charge your LiPo batteries. Balancing information travels through the unique data wire of each Smart G2 battery's innovative IC3® or IC5® connector. As a result, only a single connection is needed — no separate balance lead is required.
Smart G2 batteries come from the factory programmed to discharge automatically to a safe storage voltage of 3.90V after 72 hours of inactivity. The benefits include longer battery life, better performance over the life of the pack, and the peace of mind that comes from knowing your Smart battery is maintenance-free. G2 batteries also offer a storage discharge rate that's three times faster than the previous G1 Smart batteries. Learn more about Smart Technology here: www.spektrumsmart.com
Key Features:
Simpler and safer to use
Powerful 50C continuous discharge rating to deliver high performance and longevity
Balance charge through the IC5® connector data wire — with only one connection, no balance lead required
Faster Auto Discharge at up to 1.5A to safe storage voltage for long
Integrated microchip stores unique parameters for each battery
IC5® connectors are also compatible with EC5™ styles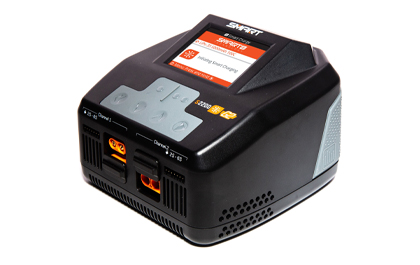 SPEKTRUM SMART CHARGER
With up to 200W power per channel or 380W on one channel for fast charging, plus the ability to charge batteries on either the IC3® or IC5® integrated output ports, the S2200 charger delivers a versatile and truly hassle-free charging experience. The S2200 charger works with virtually any RC battery and is backwards compatible with EC3™ and EC5™ connectors. Use it together with Smart G1 or G2 batteries and you'll be amazed by its incredible functionality and performance.
The S2200 Smart G2 AC Charger makes battery charging the easiest it has ever been. Its Auto Charge feature recognizes your Smart battery's parameters, such as chemistry type and charge rate, and begins safe, correct charging automatically when the charge lead is connected. A clock on the charger's screen counts down the time until your Smart battery is fully charged and ready to use.
Balancing Smart G2 batteries is just as simple. The S2200 charger will balance your Smart G2 LiPo packs through the same, single IC connection used for charging. No separate, confusing balance leads are required.
The S2200 Smart G2 AC Charger's updated, improved user interface features fresh, intuitive menus, icons, and navigation tools. Its clear, easily understandable indicators of Smart battery history and performance provide the information you need to make the best decisions about your batteries when putting gear together for a day at the field or track.
USB input and output ports enable you to charge secondary devices and to update the charger's firmware so you always have the latest version. The S2200 Smart G2 AC Charger also includes an ON/OFF switch, cooling fan, detachable power cord, and sleek case with rubber grips that fits perfectly on your workbench and in your pit or field bag.
More Information

| | |
| --- | --- |
| SKU | SPMXG2PS6-1 |
| Price | $439.99 |
| Manufacturer | Spektrum |
| Custom Discount | Discount - Electronic Products |
Join Our Discussion
Hi guest, this is a general discussion area where you can give any comment, feedback or suggestion and your experience regarding this product.
---
Be the first to write a comment for this product.
Tips
This section shows tips for this product from our sales team.
---
There are not any Tips for this product yet.
---
Be the first to ask question about this product.