Autopilots have come a long way in recent years.  You have probably heard lots of new buzzwords and features that were unheard of not even ten years ago.  The core functions of an autopilot are to hold a heading, and to follow a course line to a waypoint. They still do this, but oh so much more.  As for holding a heading or a course, they are better at this than they have ever been. Mainly due to computer algorithms and the units always refining their own settings based on conditions.  This all happens in the background and keeps the boat straighter in all conditions. 
See all of our Autopilots Here
So what are all the latest improvements?  We'll go through them one by one.  First is their ability to auto-calibrate and auto-tune. In years past a technician really had to be a part of the calibration process adjusting the settings for optimal performance.  Those days are long gone. Autopilots now auto-tune themselves.  Sea trials are seldom more than doing a couple circles and cruising in a straight line for a couple of minutes. This a game changer, because now a DIY installer can perfectly calibrate a system with no prior knowledge. 
Next is "Virtual Feedback". This has totally changed the way autopilots are installed on outboard boats.  On older systems, a rudder reference unit was required to let the course computer know which way the engines or rudders were pointed. But now, through software and technology, the course computer can tell virtually where the engines are. The rudder feedback unit was always prone to failure, and always one of the harder components to install. While it is still advisable to use a rudder feedback sensor on inboard boats, on outboards it is no longer required.  If you want to see rudder or engine position on the screen most systems still require a rudder feedback sensor. 
Trolling Patterns!  Fisherman love to work different areas in different ways. With an older pilot a fisherman would basically have to disengage the pilot to turn the boat, find a new heading then re-engage the pilot. Well, when trying to work the rods and watch whatever else is going on this can be a burden.  Trolling patterns allow the captain to engage pre-set patterns for the boat to follow.  The pattern may have the boat do zig zags, or keep circling back over a spot or do big circles. The pattern size is normally customizable.  This is a great way to make the boat do what is needed without ever touching the wheel, a real virtual crew member!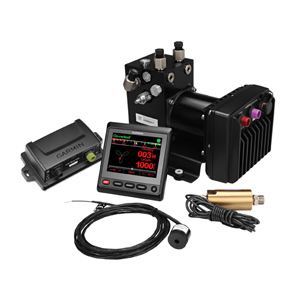 Shadow Drive - This is a feature exclusive to Garmin.  Shadow Drive is a feature that allows a captain to grab the wheel and steer the boat at any time.  Upon steering the boat the pilot will disengage. Once the captain stops moving the wheel the pilot will re-engage at the new heading, or to get back on a track. This is my favorite feature currently available for an autopilot.  The Shadow Drive is a small valve/sensor that goes inline on a steering hose.  It should be mounted horizontally.  When buying a Garmin pilot be sure to get a 4th section of hose so you have a place to put the shadow drive. 
SAFE HELM/POWER ASSIST - This is a feature exclusive to Furuno and ultimately amounts to adding power steering to your boat.  It requires the Navpilot and the FPS8 Power Steering Module.  It makes for an effortless, fully integrated helm system.
Depth Contour Tracking - A feature exclusive to Simrad.  This enables the pilot to literally follow a depth contour.  Great for trolling a specific depth. 
Our most popular Pilots:
Need custom hoses made?  We can do that for you HERE
What else do you need to know?  Modern propulsion systems like Volvo's IPS has dedicated steering pumps, so you do not need to add an autopilot pump.  If you have one of these automated steering systems then you'll likely only need a course computer and display capable of handling your steering system.  There are too many variables to list here, but just call us and we can advise you further.
Do you have Verados?  They have some custom fittings and require special attention.  Most brands offer a Verado adapter kit.  You can find most of them at the next link.  If you buy a Raymarine pilot, you'll need a Raymarine Verado adapter.  Simrad pilot, Simrad Verado adapter, etc.  Find the Verado Kits HERE 
Whether you have a sailboat with a specialized steering system, or a downeast with a solenoid steering system, a commercial boat etc, we can help you spec out the perfect pilot. This article only touches on the most popular systems for boats under 50'.